Welcome to the Urdanibia Park hotel
Everything you need to enjoy the best of our region in an unbeatable environment and at the best price
With 25 years of experience, we are a reference hotel in Irún.
We are located 5km from the historic center of Irún and the FICOBA fairgrounds, 4.3 km from San Sebastián airport, 10 minutes from the beaches of Hondarribia and Hendaye (France), 20 minutes by car from San Sebastián and just 1 hour from the following provincial capitals: Bilbao, Vitoria and Pamplona, ​​which makes us a perfect starting point to get to know the Basque Country.
When you arrive at the hotel you will not have to worry about your car as we have free parking with easy access with special places for buses and motorcycles.
The Urdanibia Bar Cafeteria and Restaurant is a meeting point in the area with a spacious outdoor terrace where you can relax when you arrive at the hotel.
114 spacious and bright exterior rooms: we offer multiple accommodation options adaptable to the needs of the traveler, come and see them!
5 rooms for holding company meetings and events in Irun.
AUTHORIZATION NUMBER: H-SS-572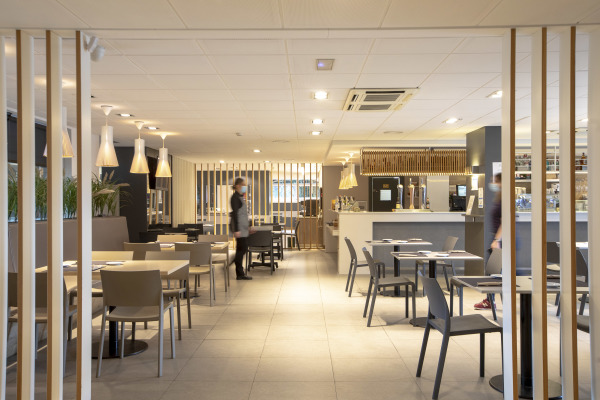 Cafe Bar Restaurant Urdanibia
We open 365 days a year
A meeting point in Irún where you can relax and enjoy our variety of pintxos as well as our winery or a freshly brewed coffee. You can also taste the snack menu with salads, hamburgers, sandwiches, portions and mixed dishes.
In a current environment, our restaurant serves a weekly and weekend menu based on healthy cuisine with local produce.
Try our specialty in rice dishes, paellas and noodles on request. Check our menu of special menus adaptable to all kinds of celebrations and unique occasions.
See more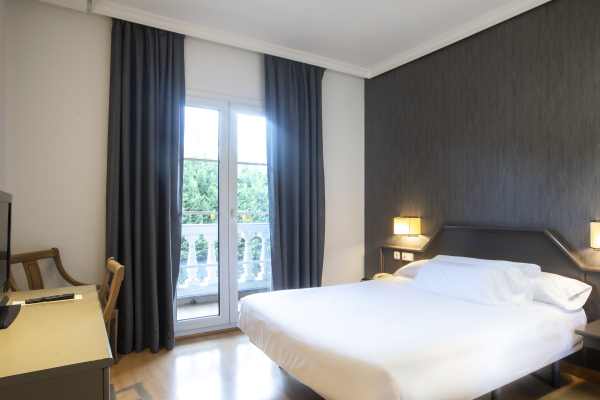 114 rooms
Exterior rooms and perfectly equipped.
Discover our triple family rooms, with a king-size bed, with a balcony ....., a great variety that will surely adapt to your needs.
The Hotel rooms are all exterior, with natural light, spacious and have, for the most part, a renovated bathroom with good lighting, a hairdryer, a magnifying mirror and a rain-effect shower.
All rooms have updated and incredibly comfortable mattresses and pillows that will favor your most restful sleep.
See more